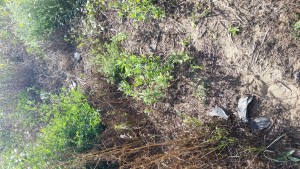 If only I had known!
When we built our acreage 5years ago, I didn't know anything about acreage life, including wells, water treatment systems, and especially septic systems! We decided to go with a mound that used shredded rubber tire, because that was what was recommended to us. The concept sounded good to us at that time.
I figured picking up the bits of tire from around the mound (either by hand or with my lawnmower!) was just an inconvenience that was part of having a mound. We started to have problems with our mound in summer of 2014 (4 1/2 years after it was put in). A colleague of mine put me in contact with Larry to try and solve the problem. What an eye-opener! I really wish that I had known about the different mound types before we made this major decision in our build. Larry's knowledge and explanation of the pros and cons of the different systems was very educational. Although the sand and gravel mound may be more expensive at the start, I can see where it would be a much better system, with lower maintenance costs and a lower failure rate. And when I'm dealing with septic, I don't want problems!
Thank you Larry, and everyone in your company. Dealing with you and your professional, knowledgeable staff has been a pleasure.
Sincerely, 
Vanscoy Client