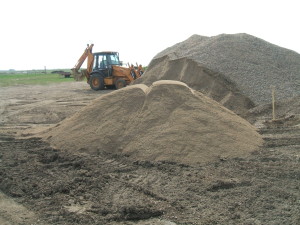 We would be pleased to help you with all of your sand and gravel needs. Please contact the office for an estimate.
We can provide:
Top soil
Planters mix
Manure

Base gravel

Traffic/

Road gravel

Pea gravel

Crushed rock

Crusher dust

Washed concrete sand
We can also mix a combination of the above to meet your needs.
Please note: the Rm Of Vanscoy has a road ban on hauling gravel for a couple weeks every Spring to help protect our roads. The road bans are typically on from March 10- May 1.  All dates and timelines for the road bans are at the mercy of the weather.
For current updates on the road bans please go to : http://www.rmvanscoy.ca/roads.php